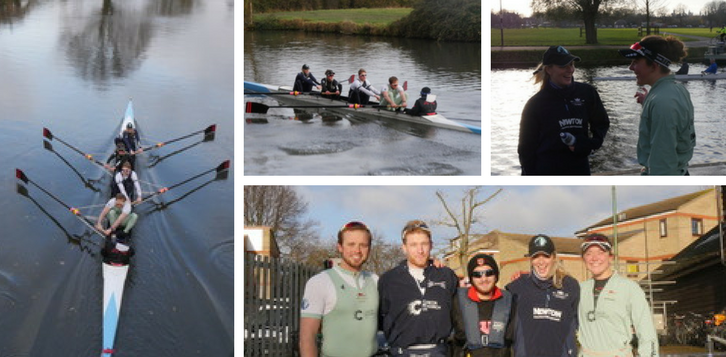 The Red Boat's first outing
Posted by Fi Macklin | 5 Dec 2017
Friday 2nd December saw our Red Boat crew, composed of one member from each Boat Race club, row together for the first time.  Old rivalries set aside, where it had been Cook v Juckett and Macklin v Spruce, today it was the first outing (with no practice possible).
The Cambridge College Jesus Boat Club had kindly invited the RowZambezi 4 to race in their annual Fairbairn Cup, supplying the boat and cox for the 3.4km race down the Cam river.
After a light snow fall on the Thursday evening, Jamie Cook drove up from Oxford and Luke Juckett flew over the pond from Boston, MA to meet with Fi Macklin in Cambridge for a quick pub lunch. Emma Spruce, after a morning of work in London, hopped on a train to join them by the boathouses. After a brisk stretch and erg warm up, the crew adjusted the boat and got ready for the race, with some unavoidable teasing of each other's choice of blue.
With only a couple of strokes to warm up, the start of the race felt like a whirl, but Luke at stroke set us up with a solid, racy rhythm, strongly backed up by Jamie at 3, whilst the girls in bow pair tried to remember the skills they had put to the test whilst both in the two seat for their Boat Race in 2016.
With some 'Yeah Oxbridge!' cheers from along the bank, the crew steamed ahead (with more steam than speed), pretending (rather naively) that their fitness was still identical to when they were all trialling. Despite the lack of training as a unit, the RowZambezi 4+ still made it to 6th position out of 24 other men's fours racing in the Men's Senior IV's (that's right the mixed men's & women's four beat most of the other male crews on the water).
A great day to all gather and get to know each other better around a fun race and around a pub table afterwards.'
Back to Blogs