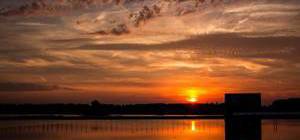 From media centers to Zambian bush; drastic change in my work space and time
Posted by Anthony Benoit | 13 Jun 2018
Only seven weeks to go until our team starts sculling on the Kafue river; this expedition becomes more real, everyday. It's finally happening! Alongside my excitement grows the necessity to finalise my preparation as a photographer of the RowZambezi expedition.
Following the schedule for new material acquisition, practising to get used to my new lenses and cameras, reading up on outdoor photography, checking if all my material is fully operational, packing and unpacking to control that everything is easily transportable and well protected against shocks, heat, rain… I regularly go through this preparation process but it has been a while since I have been as excited as I am these days. This is simply because one does not prepare for the coverage of a two week expedition in Zambian countryside the same way you prepare for World Championships.
Sports venues are a pattern of delimited and precisely organised areas. Spectators, athletes, staff… everyone stays where they are supposed to be and does what they are supposed to do in order for the whole event to occur as it was planned. Competition organisers don't like surprises. Although accredited press of such events often get more flexibility of action than anyone else, we are still closely managed and there is not much room for improvisation and creativity – which is a problem when your job consist in taking photos. Therefore, a challenge for photographers who cover competitions is to find enough space for creativity inside a very restrictive area. Modern photo materials reduce the risk of technical failure when shooting, and finding the original angle that no other photographer has spotted is what truly makes a difference if you want your photos to be noticed.
On the Kafue River, no fence, no accreditation, no schedule, and almost no rules for media coverage. The Row Zambezi team will be dropped into Zambian countryside and our rowing pond will be 900 kilometres long. Furthermore there will only be two photographers, and we will be working in the same team. Our challenge there will be less about being original than about sticking to an artistic approach, previously decided and prepared. The temptation to shoot continuously and in all directions will certainly be strong, but chasing all subjects would be the best way of missing them. The unusual liberty I shall enjoy on this project must be used to imagine and follow a coherent photographic approach, which will report best what we do, see and also what we feel during RZ18.
Beside space, time will also be slower in Zambia than when I am in Henley, at a World cup or at any Olympic pond. Life at organised competitions is an alternation of long periods in my temporary office – the media center – with brief and intense moments out, "on the field". You spend hours behind your computer, checking the schedule of the day, editing the photos recently taken, sending the best of them to your media by email… and suddenly arrives the race you want to shoot, the podium you must cover, the crew you are here for, and you are back on the field for no more than a few hours maximum. In such moment you must be fully ready – no memory card forgotten at the media center, no empty camera battery…  and you must be fully awake because there is no time for mistakes. You checked the planning, know exactly how things will happen and now it's time to shoot and create.
There won't be any separation between office and field during the RZ18 expedition. My office will be my laptop and my backpack, the field will be the Kafue National Park that I shall enter on July 16th and leave two weeks later. This implies more time to analyse the environment that will surround me, but I will also have to remain constantly focused and ready to shoot. 24 hours a day with a fully operational camera, to get the croc briefly appearing at the surface of the river or the hippo perfectly placed at sunset.
I usually alternate between the media center and short sprints, I will this time run a marathon: consistency in my effort over time will be crucial if I want to avoid regrets when reaching the finish line on 28th July.
Naturally these changes of time and space in my work environment influence the way I pick my material before leaving. I usually know precisely what lenses and tools I shall need, because I know exactly the delimited environment I am going to work in.  For RZ18 I must be flexible enough to be able to cover a wide variety of situations, including unexpected ones. Furthermore, I will be away from home for a long period of time and without any source of electricity for several days sometimes, which creates some extra problems around power and storage management – more hard drives, SD cards and batteries… And of course, outdoor life along 900km requires resilience and lightness for everything I take with me.
Operationally, the core of my photo pack will contain two cameras, four lenses, one laptop, two hard drives, four SD cards, six batteries and one flash. I shall use a range of lenses going from 24mm to 600mm. An aperture of F/1.8 will help when shooting in low light condition. Relatively recent technology such as SSD hard drives with big storage capacity will also be crucial to store until 64Gb of photos per day over 2 weeks.
Creative instinct is what I usually use to produce qualitative content; This time I shall have to use my brain and organisational skills above all. I am already working hard to pass this challenge!
Anthony Benoit
See more of Anthony's work at www.aesthetic-sport.com
Back to Blogs