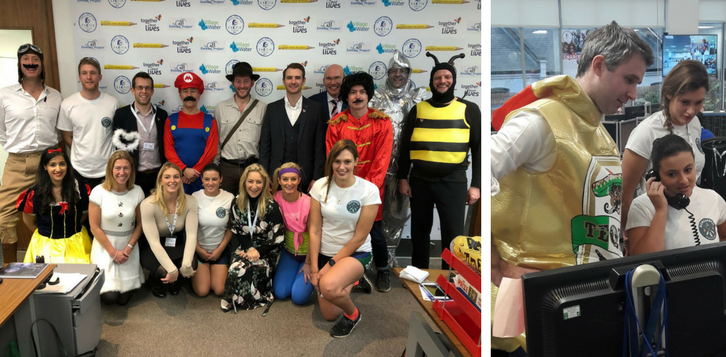 £56,000 at Exotix Capital annual Charity Day
Posted by Darren Low | 3 Dec 2017
Exotix Capital, the world's leading frontier and emerging markets investment bank, announced today that, with the help of its staff, clients and friends, it will donate more than $76,000 (£56,000) to children's charities following the company's 19th annual Charity Day held at its head office in London and regional offices in New York, Dubai, Lagos and Nairobi.
British Olympic Silver medalist and RowZambezi boat captain Zoë de Toledo and The Inbetweeners and Doctor Who actor Alex Macqueen were among the sporting heroes and celebrities who teamed up with staff at Exotix's headquarters in London to raise money for four charities whose work helps the lives of children in the UK and countries in the emerging markets. The money raised was a combination of revenues from the firm's sales trading and research divisions. The rowZambezi team, supporting Village Water were represented by Zoë, Jamie Cook and Beanie Garnet and run an ergo challenge during the day.
Exotix's chosen charities for 2017 – Children in Crisis, Together for Short Lives, Village Water and The Emiliani Project – each work to strengthen community infrastructure in the company's core focus regions, as well as helping to create and guide a new generation of entrepreneurs and financial markets leaders.
The funds will be donated to the four charities to build upon the essential work they do in supporting education and promoting protection for children impacted by conflict and poverty; helping young people with serious medical conditions expected to have short lives to live life to the fullest; ensuring safe water and sanitation for a school in Zambia's Western Province; and providing a home for 330 orphaned and abandoned children in Colombia.
Rob Elliott, Head of Operations at Exotix Capital, said: "Exotix is intrinsically connected with countries across the developing world, with our staff living and working in these regions and our business contributing to growth of the financial markets and economies. But we also feel our responsibility to contribute socially, to give people less fortunate than ourselves the opportunity to make a better life.

"We are privileged to be working alongside our colleagues at Children in Crisis, Together for Short Lives, Village Water and The Emiliani Project, who we have chosen to support this year, and we want to thank our clients, friends and staff for making it a special day."

RowZambezi's Zoë de Toledo said: "Thank you so much to everyone at Exotix, we were very impressed with how competitive the were on the ergos and how much energy they brought to the whole day! A fantastic way to raise £15,000 for Village Water and three other great causes.
Back to Blogs