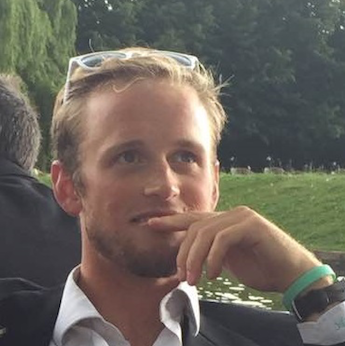 Luke Juckett
Boat Race 2014/15/16
First Expedition
Age: 27
Height: 185cm
Hometown: Boston, MA
Occupation: Clinical Bioinformatics Analyst, Foundation Medicine
Rowing Standard: Boat Race Winner
Expedition Goal: To raise money for sustainable water resources
3 skills you bring to the expedition: A passion, a smile, and an engine
Biggest fear of the expedition: I hate mosquitos
follow me
I am the lone American in the 2018 RowZambezi Expedition, and at 27, the oldest member of the Boat Race Challenge team. Unlike most of my rowing peers over the years, I grew up competing in "ball sports" like baseball, football, ice hockey and lacrosse. It was not until I was 18, that I was plucked from a list of kids and told to try out for rowing at the University of Wisconsin-Madison because I was "tall". Under the tutelage of Oxford Blue Chris Clark, I found a passion for competing and rowing that burns to this day. In 2013, I made the best decision of my life, and enrolled at the University of Cambridge, where I had the opportunity to achieve unmet goals in rowing, and change paths academically. Now, over a year removed from my 2016 Boat Race win, I am working as a Clinical Bioinformatics Analyst in Cambridge, MA, and hoping for an opportunity to start medical school in the near future.
What's your motivation for taking part in this challenge?
It is immensely difficult for me to put into words how much I've gained from my three years at the University of Cambridge and with the Cambridge University Boat Club (CUBC). Very simply, the RowZambezi Expedition provides me another opportunity to proudly represent the CUBC, and in a capacity that expands its scope above and beyond the confines of the annual Boat Race.
On a different note, the humanitarian goals of the expedition were also a strong motivational factor for me to get involved. There are many luxuries in life that go unappreciated and are taken for granted. I pursued an educational effort in Uganda the summer of 2016 but, ultimately couldn't pull it off. Now, with RowZambezi, I am eager to work with facilitate the installation of water resources and hopefully make life better for a deserved people in Africa!
Whats your biggest fear of the challenge ahead?
My biggest fear does not involve any physical, mental or environmental factors we may face. In fact, I look forward to the physical and mental challenge, its one of the reasons I've joined the team! My biggest fear is failing to raise enough money to support our humanitarian efforts, and leaving a diffuse impact when we leave. The true motivation of the RowZambezi Expedition is to facilitate the installation of sustainable water resources in local villages and towns. I am confident in saying that most people take accessible water for granted, and this is our opportunity to bring that luxury to a new group of people.
Fun Fact
My favourite song is "Today is the Day" by Indigo Swing. If someone can teach me how to dance to this song, DM me.