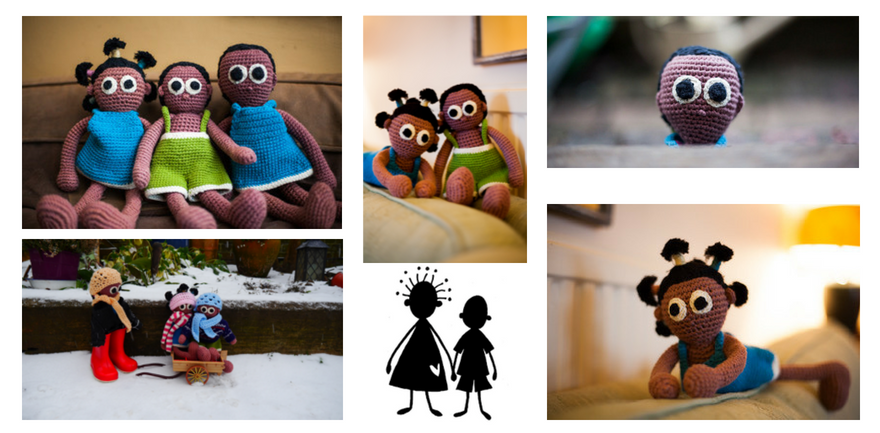 Kafue Kids Part 2 - Boat Race 2018
Posted by Louise Cook | 24 May 2018
The Boat Race 2018
We went out on boat race day, all bundled up and cosy. It was a cold and rainy day. Mama Cook had knitted our scarves in support of the University teams Oxford and Cambridge. The Boat Race is when boats from Oxford University and Cambridge University row side by side for 6.8 kilometres up the river Thames. It is a very famous race. The first one was in 1927, and it is extremely tough. We felt very honoured to be part of the 'which blue campaign are you?' when people are encouraged to show their support for one of the Universities. We joined Row Zambezi at their stand, which was outside the London Rowing club, and next to the Rupert and Buckley pop-up store.  Some of us wore dark blue scarves and some of us had light blue scarves and we were very excited.
Row Zambezi had 2 ergs* and was running an Oxford and Cambridge race. How fast could you row 100 metres? They had a leader table with the times written on for everyone to see.  It was very challenging and lots of people took part. It was exciting cheering Ollie Cook and Nick Middleton, then Jamie Cook and Luke Juckett competed with lots of noise from the crowds. We loved shouting for Jess Johnson against Henry Fieldman and really wanted her to win. An enormous chap from Denmark blew the score off the board with a winning time of 14.2 secs. He won a pair of Cambridge colour socks from Rupert and Buckley.
We hugged our friends, Iris and Nelson, goodbye as they left us to live with Jess Johnson.  The lovely man from the Financial Times, Simon Greaves, adopted Noah. Simon mentioned that he might take Noah back to Zimbabwe to explore Simon's family roots. Noah was thrilled! Lucky Lily went to live with Clare Balding; we are wondering what adventures they are going to get up to! A spot of Countryside Rambling maybe? A lady adopted Lucy for her sister who had been complimenting our hairdos. The sister was about to have her first baby and lived in the Netherlands. Finally, but not least, a man very generously adopted naughty Kalinga and Tabitha. This man told us his wife loves social media almost as much as we do, so, we can't wait to hear about their news.
That day Cambridge won all the races and those of us wearing little light blue scarfs celebrated, and those of us in dark blue scarves stood strong and tall.
We were all very proud to represent the boat race teams that day.
*funny rowing machines that don't go anywhere but make you feel as though you did!
Kafue Kids are 80 very special dollies made by Little Ndaba, Zambia. They were created in Chingola, Zambia, near the Kafue River and are called the Kafue Kids Collection. The Kafue Kids were commissioned by Row Zambezi to support their fund raising for their Kafue River Expedition 2018.
Row Zambezi organises rowing events in Zambia. This year 18 rowers plus their support crew would be navigating the Kafue River through Kafue Game Park and across the Kafue Flats.  Some of the rowers are Olympic medal winners and 'boat race' rowers – this means they will go really fast, they even have an Olympic cox which means they might go even faster! They are aiming to raise awareness for water conservation to help WWF and World Rowing raise money to build a water research and rowing centre on the Kafue River. They are also raising money for the charity Village Water. The rowers and the support crew will be carrying out data collection activities on water quality and conservation projects.
Back to Blogs