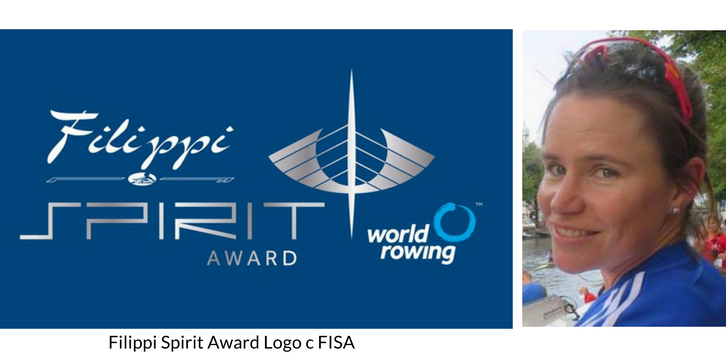 Micheen Thornycroft wins Filippi Spirit Award
Posted by Darren Low | 12 Feb 2018
The World Rowing Federation (FISA) and Filippi Lido S.R.L. are pleased to announce that Micheen Thornycroft from Zimbabwe is the winner of the 2017 Filippi Spirit Award.
Thornycroft is a two-time Olympic rower for Zimbabwe and is currently studying at Rhodes University in South Africa. She plans to graduate in 2019 with a masters degree in human kinetics and ergonomics, focusing on elite athlete performance centres specific to Africa. This degree will allow her to continue in a career related to sport in Africa. She hopes to develop competitive structures within African nations and see the standards of rowing increase throughout the continent.
At Rhodes University Rowing Club, Thornycroft coaches, mentors and inspires younger women. Despite a demanding course and training schedule, Thornycroft manages to find time to give back to a new generation of rowers. She runs a junior programme at St. Andrew's college and has been heavily involved in getting the local girls high school to take part as well.
Thornycroft also donates time to a community engagement project to develop sport in underprivileged areas. She also recognises the importance and connection with nature and is part of the RowZambezi project which will raise money for clean water conservation in Africa.
"In the fifth year of this Award, I never cease to be amazed by the caliber of the nominations. There are so many inspiring university student rowers who deserve to be recognised. This year's winner, Micheen, is no exception. She has balanced Olympic-level training with university studies and still found time to give back to the rowing community," says FISA President Jean-Christophe Rolland.
"It is incredible to win such an awesome award, as there are so many amazing people nominated for it every year. I have always wanted to be able to give back to my University rowing club, as they gave me so much over the years, and so it is so exciting to be able to give them a brand new Filippi eight. It is more than I ever dreamed I'd be able to give," says Thornycroft.
This is the fifth year of the Award and the second edition with title sponsor, Filippi.  Previous winners include James Cook (GBR) in 2013, Franz Gravenhorst (GER) in 2014, Kirsten van Fossen (USA) in 2015, and Nils Jakob Hoff (NOR) in 2016.
The winner's university rowing club will receive a custom-built, top-of-the-range Filippi eight racing shell. The boat recognises the winner's involvement in the club and helps the club to develop more young rowers in the future.
Filippi Lido S.R.L. (also known as "Filippi Boats") is a rowing racing boat manufacturer based in Donoratico, Italy. Since 1980, Filippi has produced top Olympic-class rowing boats. They are renowned for design, top-quality materials and state-of-the-art technology combined with passion and core values that underpin their work.
Back to Blogs