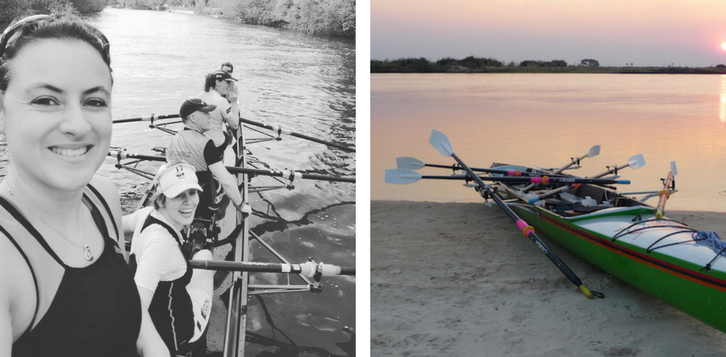 My transition from coxswain to sculler
Posted by Zoë de Toledo | 1 May 2018
It's 11 weeks to go until we fly out to Zambia to begin the 2018 RowZambezi expedition. My transition from coxswain to sculler was slightly derailed by the minor event of having brain surgery, but I am now back on track. With medical school exams in 7 weeks, a house move in 10 weeks, and a wedding to plan for in October, just finding the time to fit in the training has been a challenge in itself. But none of this will compare to how it will feel to be pushing off onto the mighty Kafue River in a few short months, with 900km to go in front of us. Or behind our backs I suppose, given that as a rower you have to go backwards to go forwards. You see, the transitional from coxswain has been a hard one!
In my many years of rowing I've coached many hours of sculling sessions, and watched many many more. One of the hardest things about transforming into a sculler has been getting my body to move in the way my mind wants it to. I understand what good technique should look like, and in theory I know what it should feel like. But in practice, actually making my body do want I know it needs to is a completely different story. It's been frustrating, challenging, and occasionally satisfying, and I am acutely aware of how much further I have to go in the next 11 weeks if I'm going to be an asset to my team, not a hindrance.
My partner Alex took part in the Moon Row expedition in 2014, and is so excited to share this experience with me this summer. We've even managed the odd doubles session together without any arguments. I'm so lucky to have him with me for this challenge, and I want to make him proud, and show him I am capable of more than he knows. Now we just have to make sure we get through the row without killing each other, and still wanting to get married later this year!
It's hugely clichéd, but knowing that we are going to be doing something that will make a difference, that will completely change people's lives, makes every ergo, every water session, feel even more important. Being in elite sport at any level is a fundamentally selfish act, you have to put yourself and your performance first. For me, this is a chance to give something back. Ultimately, the discomfort of blistered hands, sore bums, sleeplessness, and exhaustion, is nothing compared to the daily struggles of the 1 billion plus people living without access to clean water.
We can't fix the entire world, but we can change it for thousands of people in Zambia, through the work of Village Water and the KRRC. Can you imagine living your life without this most basic resource?
We are trying to do something about it. You can support us, and our causes, by clicking here and every little helps.
Back to Blogs