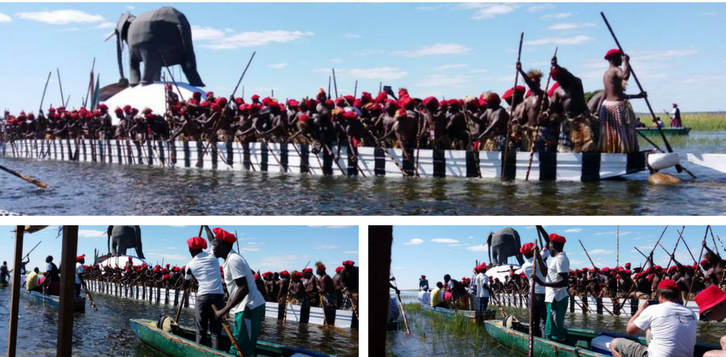 The Kuomboka Ceremony
Posted by Tom Lungu | 5 May 2018
Zambia has over twenty traditional ceremonies that take place annually. All the traditions have one thing in common which is that the customs and rituals practised have been passed down from generation to generation. The ceremonies range from small ceremonies that seclude the outside world (normally ritual practise and rights of passage) to bigger ceremonies such as the Kuomboka ceremony which anyone can attend. The Kuomboka is regarded as one of Southern Africa's greatest ceremonies.
The Kuomboka ceremony is said to be over 300 years old. The word Kuomboka means "to get out of the water onto dry ground". The ceremony takes place at the end of the rainy season (anytime from February to May) as the flood plain in the Upper Zambezi Valley rises. The Lozi king (the Litunga) decides when the move should be made. When the Litunga decides to leave, he drums the first signal of the exodus on the Maoma drums. This is to signal to the people that the move is imminent and also to alert the royal paddlers to gather and prepare for the journey.
The paddle from Lealui, the dry season settlement, to Limulunga the wet season settlement on higher ground is about six hours long. The Litunga travels on the Nalikwanda, a huge wooden canoe painted with black and white stripe. The Nalikwanda which is central to the ceremony has an elephant on the top. The elephant is the insignia of the Litunga. The Nalikwanda is paddled by about hundred paddlers or more. Each paddler wears a headdress of a scarlet beret with a piece of lion's mane and a knee-length skirt of animal skins. The journey is characterised by ululating and by the sounds of the royal drums which are said to be over 170 years old.
The Litunga begins the day in traditional dress, but during the journey changes into the full uniform of a British admiral, complete with regalia and ostrich-plumed hat. The uniform was presented to the Litunga in 1902 by the British King, Edward VII, in recognition of the treaties signed between the Lozi and Queen Victoria.
The RowZambezi expedition team had the privilege of meeting the Litunga on their first expedition of the Zambezi River in 2011. Since then, the red elephant of the Litunga has been incorporated into the Row Zambezi Sculling Club emblem as tribute to the Litunga. More information about the ceremony can be found here.
(Sources: Zambian Tourism, Lonely Planet, Barotsealnd.info)
Back to Blogs