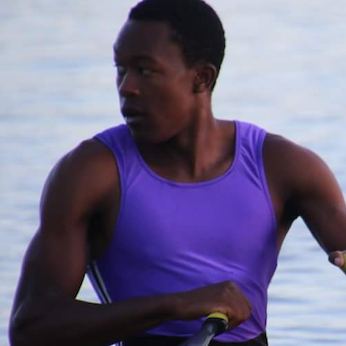 Thomas Lungu
Rhodes University Rowing Club Captain
Junior Rowing Coach U14 Level
Name: Thomas Lungu (Tom)
Age: 23
Club: Rhodes University Rowing Club (RURC)
Height: 1.78 m
Hometown: Kalulushi, Zambia
Occupation: Graduate
Rowing Standard: University-Club level
K18 Goal: To raise awareness for clean water and for the development of rowing in Zambia
3 skills you bring to the expedition: Local knowledge, team work, creativity
Biggest fear of the expedition: A hippo capsizing the boat in the presence of crocodiles. A highly unlikely scenario, but not impossible. Off the water, the tree climbing lions!
follow me
Background
I am a recent graduate of Rhodes University and one of the few Zambians on the K18 expedition. I have been brought up in Zambia with a lot of my time being spent on the Copperbelt province. My early years consisted of time at school during the week, the farm on the weekend, with a compulsory church session on Sunday. I started sport at an early age under the Trust school sporting system. As expected, I was only introduced to the common ball sports and to athletics which are widely popular within Zambia.
During my senior years, I got exposed to rowing whilst studying in the UK. The experience of watching rowers on the river Medway ignited my interest in the sport. I made a vow to start rowing and try something new and challenging whilst at university- a commitment my family oversaw. Upon arrival at
Rhodes University, I joined the rowing club and there my passion for the sport grew. The beginning of my university rowing career was challenging in many ways. However, in a couple of years with support from many of my peers and my family I had comfortably absorbed the sport. Just as is seen in the movies, I found myself at the administrative top of the rowing club having secured a place in the history books.
Why you're coming to K18:
I am really thrilled to be on the K18 expedition. On a personal level, it will be a really humbling experience to be coached and mentored by some of the world's greatest minds in the sport of rowing. It is an opportunity no one can pass in my opinion. The other interesting factor is that we are doing something remarkable that's never been done before whilst raising funds for Village Water and the KRRC.
Clean water is something many of us take for granted. Having grown up in Zambia, I know the importance of the Kafue and how many sectors benefit from it. I hope to see that our objectives on the expedition are well received in order for them to initiate a positive response both in Zambia and the world over.
At the end of the expedition, I hope to see some development of rowing in Zambia. I believe that sport has the ability to transform lives. Rowing is a character building sport and it would bring me plenty of joy in seeing this character exude in Zambian youths.
What you're worried about:
I'll address the elephant in the room (on the expedition this may actually be a reality and not a metaphor) and say that we're all worried about the crocodiles. I'm pretty sure anyone that says otherwise is attempting to sound brave.
Fun Facts:
I have had a violin for 4 years now. I like to think I can play it, but I really can't. Can I really play it? That's for people on the expedition to decide when I play it during the wee hours.
My friends tell me I have a good taste for coffee – they're probably being polite.
I really enjoy sarcasm. It's pretty much how I hold conversations – not sure if I'm being sarcastic or not, or am I?