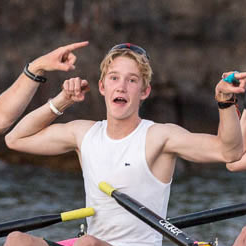 Robbie Cook
Expedition Photographer
Member of 2011, 2014 & 2018 expeditions
Age: 20
Club: Ex-Leander
Height: 194cm
Occupation: Student
Hometown: Windsor
Rowing Standard: Club
K18 Goal: Raise awareness for clean water (Village Water)
3 skills you bring to the expedition: Zambian experience, photography and drone flying
Biggest fear of the expedition: Being pulled out of the boat by a croc
follow me
Hi my name is Robs Cook and I am 20 years old. I started rowing when I was just 8 and won my first pot coxing my brother Jamie in a quad at the same age! Ever since that I have been involved in the sport one way or another, from rowing at my local club, rowing for my school (Canford) and then rowing for Leander Club in Henley. During my time at Canford and Leander, I raced at National Schools Regatta and Henley Royal Regatta as well as some regional events.  Currently I am on my Gap Year, which has seen me travel to places such as; Italy, France, Netherlands, United Arab Emirates, South Africa and Zambia.
I started doing these expeditions with my family back in 2011, which was the first Zambian rowing expedition. This year's expedition will be my third to the country and I can't wait! On the expedition, my role will mainly be a rower but I will also play a part in the support team which will involve driving and setting up campsites down the Kafue river. During our first expedition we helped to dig a well in a remote village along the Zambezi to provide clean water to the villagers. Now building on from this we are raising more for the same charity that we have supported on the previous two expeditions, Village Water.
My largest fear whilst doing these expeditions is the possibility of being attacked by wild animals. The risk of being taken out of the boat by a crocodile it very daunting! Wild animals aside there are still other things that can be as dangerous, such as; capsizing and drowning, malaria, infections, rabbis, food poisoning, dehydration, heat stroke, the list goes on but crocodiles are definitely my largest fear!
In addition to rowing I have done a number of other things. When I was about 10 I was really into my street dancing, so much so that I was in a 'crew' for my school. Somehow our crew of about 7 got entered into a show by our teacher. I was the only person to learn the routine and when we got onto the stage no else could do the moves, so I just went for it and danced to my heart's content. Needless to say we didn't do very well and my dancing passion ended on that stage. Right now I am passionate about photography and drone cinematography. I regularly post photos onto my Instagram account and have made stand alone drone videos on my YouTube account. I will be taking both my camera and my drone to Zambia to document the whole trip from my perspective, the expedition is going to be awesome!