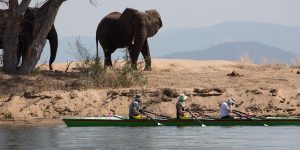 As we navigate the Kafue River we will be meeting with some prominent conservationists.
We will stop at the Mushingashi Conservancy where we will meet with Darrell Watt, who has had a major impact on reducing poaching and improving wildlife diversity, by taking a structured approach and investing in training and coaching of guides and wardens.
We will meet Chris and Charlotte McBride, at McBrides Camp. Chris is an avid conservationist, and expert observer of lions. Chris has written three books on lions including "The White Lions of Timbavati" about a pride of white lions in South Africa. His camp also has its own resident hippo!
We are also hoping to meet Dr Kim Overton-Young, and her husband Dr Jake Overton, at Roy's Camp on the Kafue. Kim is leading the establishment of a coalition of partners to promote the free movement of carnivores across the world's largest transfrontier park. Jake is the Program Manager for the Kafue Cheetah Program.