Our aim is to provide practical support and online resources to help emerging rowing coaches in Southern Africa. This has been a core part of the RowZambezi philosophy since the first expedition, because it is not enough to simply focus on helping athletes themselves; by focusing on coaches we can help create something more sustainable.
In 2011 we took young Zambian rowers and their coaches, from the Zambian Amateur Rowing and Canoeing Association (ZARCA), with us on our 1000km journey from the border between Angola and Zambia, down the Zambezi river to Victoria Falls and Livingstone. Two of those young rowers joined us again in 2014 when we rowed non stop across the 250km Lake Kariba. However, before we embarked on our non stop row, we set up a learn to row course at Trident College in Solwezi, in the northern part of Zambia. We had a fantastic coaching team for this this multi day course including Anastasia Chitty (President of the Oxford University Women's Boat Club); Nick Middleton (President of The Leander Rowing Club); Robbie Cook (Leander Junior) all under the leadership of James Stephenson (ex Director of the Eton Rowing Courses). At the end of the course we selected a high potential rower, called Kalunga, who then came with us across Lake Kariba becoming the youngest person to have rowed the length of Kariba, non stop.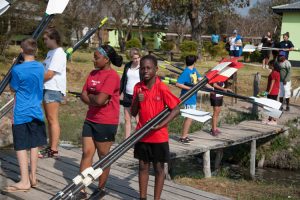 In 2018 we are going to run a coaching school as we row more than 400km through the Kafue Flats. The programme is being put together for us by James Stephenson, and we are going to coach and mentor the coaches as they in turn coach our world class rowing team. It is not often that an emerging coach can get an opportunity to train Olympic athletes, or athletes who have competed in The Boat Race, the world's oldest, and largest, amateur sporting event.
After the Kafue Expedition we want to continue to support the coaches, by providing them with remote diagnostics advice from other more senior coaches in other countries including RSA and the UK. In this way we hope we can have a meaningful impact on the aspirations of individual countries eg getting a Zambian boat to the Olympics.
Coaching coaches is the way to make a difference. As Charles Darwin put it: "It is not the strongest of the species that survives, nor the most intelligent, but the one most responsive to change"
So please support us and get involved!